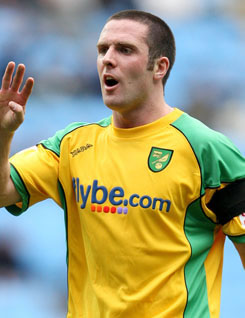 News broke this week that Greg Abbott's obsession with central midfielders was being satiated by a trial signing of ex-Norwich captain Mark Fotheringham. Canaries fan Andrew Woods gives 'Keith Mincher' the lowdown. It's not pretty reading...
When midfielder Mark Fotheringham joined Norwich City in 2007 as a free agent (he had played three games for Celtic), he was one of a slue of sub-standard Caledonians that fellow Bhoy Peter Grant brought to the club in a bid to turn Carrow Road into 'Fortress Shortbread'. Yet, when clipboard-waving Grant – his shortbread empire soon turned to mush – and his successor Glenn Roeder left the club, the man they nicknamed 'Fozzy' somehow defied natural selection by both escaping the inevitable cull and retaining his captaincy (cheers Roeder) under his third boss Bryan Gunn. Organ grinders came and went, but the monkey remained, clashing his symbols.
Fozzy was the sort of player fans shied away from for fear that he'd sign their shirts. A man so average, even his 'Fozzy Flick' which saw the ball chipped over both his and his opponent's heads – was a pathos-inspired plaudit from the terraces for this sometimes laughably awry 'trick'. Seventy six appearances, with just four goals, this was not a schoolboy's poster-pin-up. Fotheringham had all the grace and flair of a creaky filing cabinet rusting in a ditch.
Fozzy was no Joey Barton either, with his rather lacklustre backtracking and mistimed tackles. Norwich City were not a great side during this period it is true, but Fotheringham seemed to embody the mind-numbing limitations of the squad. A poor passer without a creative bone in his body, Fozzy huffed and puffed all over the park but to no avail. To put it politely, he was less van de Vaart than Van Morrison.
Fozzy's final game, saw him booed off as he was substituted and stripped of his captaincy. Fotheringham angrily marched down the tunnel for his early bath, in a passion-filled hissy fit that gave the City fans their first – and last – taste of fireworks from the man. His final Fozzy Flick involving a half-filled bucket of water.