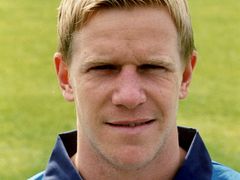 In the first of our new 'My Favourite Blue' series Simon Alderson
declares his balls out man love for God's own full back, Darren Edmondson. Take it away Aldy...
One man stands head and shoulders above everybody as my all time Carlisle United hero. I wasn't around in the heady days of 74/75 when we were in the old first division so most of the players I witnessed in my fledgling days were lower league journeymen and players from the youth team, which if I'm honest was a mixed bag – Jason Prins, was one where you wondered how he became a footballer, but to be fair he's lived my dream and I bet he could still run rings round me on the five-a-side pitch. However one Cumbrian
p
layer, from Coniston in the Lake District, came through the Brunton Park ranks (via Hull bizarrely) and he was, and still is in my eyes, Mr Carlisle United.
Ladies and Gentlemen may I present - Mr Darren Edmondson, right back, centre half, sweeper - keeper if he'd been asked. Generally though, he played at full back and was part of a famous defence that included Derek Mountfield, fellow cult hero Dean Walling and Tony Gallimore that were first Carlisle United team to play at Wembley and who went on to win the Third Division Championship in the same season - 1994/95; the first successful season Carlisle had, had since I started watching them in 1987.
The reason he was and still is my hero is his whole hearted displays - 110% every time he played. I can't remember him being the most skilful of players but he was hard, committed and knew how to defend. He also used to be quite handy at going forward - bombing down the flanks brushing players off, Roy of the Rovers style, and either scoring or popping in an inch perfect cross. I never remember him misplacing these crosses, losing the ball or missing the target. I think that could be effect of the rose tinted glasses but probably not, as this is Darren Edmondson we're talking about!
One moment in Darren's Carlisle career that stands out was the infamous third round FA cup game against
Sunderland at Roker Park. We played really well and deserved to win the game – even a Sunderland supporting mate of mine agrees. However, against the run of play Sunderland scored and it looked like they'd sneak into the next round. Darren had a different plan – and in the dying minutes managed to bag a goal and get us a replay at Brunton Park, though we went on to lose that the goal lives long in the memory.
The day Edmo left for Huddersfield Town (who were in the first division, now Champonship, at the time, formerly First Division) was a dark, sad day and I don't actually think Darren wanted to go. He was pushed out by the Knighton regime, as ever managing the finances before the playing side of things. He never really got a good run at Huddersfield Town and my view is that if he had he would have made it. He moved on to Chester City and York City and always got a good reception where ever he played against us - from me especially. I think if it hadn't been for Huddersfield he'd still be with us now. Every season he became available I'd hope to see him back – to be honest I'd probably still have him back, not that Frank Simek and James Tavernier can't do a job but this is Darren Edmondson we're talking about!
A couple of seasons ago Blyth Spartans (my adopted 'second' team – due to me living in the town) entertained Workington Reds at Croft Park and as Carlisle were away it was only right to go and see Edmo in action. He didn't disappoint – still all action and throwing himself into challenges all over the field. It was a pleasure to watch him again. Darren has since hung up his boots and is now Workington Reds manager and he's not doing too badly – bringing in some particularly handy players this season – chiefly Stuart Green. I've often thought about the possibility of him being our manager in a few years but if it didn't work out, would his hero status diminish? Not just for me but for many supporters? It probably wouldn't. We all know how hard he battled every time he pulled on the shirt and he would be the same as a manager. You've got to remember this is Darren Edmondson we're talking about!
The man is a Carlisle United legend and I still vote for him as player of the season, even now!
A book was published a couple of years back called 'Carlisle
's Cult Heroes'. I skipped though past McConnell, Shankly, Bowles, McIlmoyle and Balderstone to read about Darren only to find him shockingly omitted. No matter, he'll forever remain my Carlisle United 'cult hero'

- this

is

Darren Edmondson we're talking about!